4th August 2006
DVD NEWS
Tartan has announced a number of box sets which will be released in October, November and December.
These are:
The Vengeance Trilogy will contain the three films directed by Park Chan-Wook: Sympathy For Mr Vengeance, Oldboy and Lady Vengeance. All these are offered in double-disc format. Sympathy has two hours of extra material; Oldboy will have a new commentary by Ain't It Cool's Harry Knowles. and an English-dubbed version. Lady Vengeance will feature additional commentaries and deleted scene, but also a "Fade-To-Black-And-White HD" feature, which is exclusive to the box set.
The RRP for the set will be £49.99. But wait, there's more! There's also going to be a numbered deluxe edition, in a box designed after the Oldboy box, with added Vengeance-themed gifts including a hammer / bottle-opener! This set has an RRP of £69.99. Release date for both of these is October the 23rd.
There will be two three-disc Documentaries box sets. The first will include three rock-themed documentaries: Dig!, End of the Century: The Ramones and The Devil and Daniel Johnston. Box two pits the underdogs against big business, and will contain Morgan Spurlock's Supersize Me, Robert Greenwald's Wal-Mart: The High Cost of Low Price and Robert Stone's Guerrilla: The Taking of Patty Hearst. RRP for each set is £34.99. Release date is 23rd October.
November the 13th will see the release of the Complete Ingmar Bergman Collection set, a whopping thirty-disc set containing such classics as The Seventh Seal, Persona, The Virgin Spring and Autumn Sonata. The set will feature two previously-unreleased titles, Dreams (1955) and Farodukument '79, and will include a special Bergman booklet. The RRP is £299.
Three films are included in the Wong Kar-Wai Collection set, which is also released on November the 13th. These are In The Mood For Love, and the Cantonese versions of As Tears Go By and Days of Being Wild, with commentaries by Richard Jobson and Chris Doyle. The RRP is £34.99.
The Jim Jarmush Collection will contain new-to-DVD releases of his early films Permanent Vacation, Stranger Than Paradise (1984) and a re-mastered edition of Down by Law (1986). This will be released on November the 13th, with an RRP of £39.99. Three more Jarmush films (Dead Man, Mystery Train and Night on Earth), are due from Tartan in 2007.
Two box sets featuring the work of Spanish director Julio Medem are planned by Tartan. The first, due on December the 4th, will include Vacas, Red Squirrel and, making its UK DVD debut, his 1995 film Tierra. The set will feature background notes by Medem expert Robert Stone, who also contributes "commentary". The RRP is £34.99. The second set, due in 2007, will feature Lovers of the Arctic Circle, Sex & Lucia and Basque Ball.
The Michael Haneke Trilogy box set will contain his first three feature films: The 7th Continent (1989), Benny's Video (1992) and 71 Fragments of a Chronology of Chance (1994). The set will be released on December the 4th, with an RRP of £39.99.
Tartan also announced two-disc Special Edition versions of perennial favourites Irreversible, Belleville Rendezvous and Dig! These will have an RRP of £19.99. No further details were announced.
Fremantle Home Entertainment will release the eight episodes of the Channel 4 series The Armando Iannucci Shows - The Complete Series on the 4th of September.
The two disc set will feature commentary by Armando, and deleted scenes. It will, suffice to say, be fabulous. The RRP is £15.99.
There's a website to promote the release, which you can find here. This will be updated each day with a random thought from Armando. The site will also feature clips, a screensaver, and other mildly-insane stuff. You can begin by finding out about Armando's fear of footballs, here.
As announced here a couple of weeks ago, Twin Falls Idaho will be released by Metrodome on DVD on Monday. You can view a trailer for the film here.
Fremantle will release Tommy Cooper - The Very Best of and The Missing Pieces as a two-disc DVD set on September the 4th.
The disc features clips of Tommy performing, from the Thames Television archives (sorry, nothing more specific than that - presumably it's simply a compilation of two previous releases: The Very Best of... and The Missing Pieces). It also features two bonus features: Book of Gags and a Tommy Cooper Biography (the press release doesn't say what form these take).
The RRP is £15.99.
An exclusive Internet-only trailer for Eli Roth's backpackers-in-peril gore-fest Hostel can be found here. Be warned, though, it's only for those with a strong stomach! The DVD is released on Monday.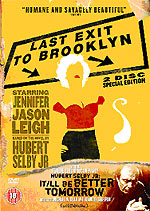 A two disc edition of Uli Edel's controversial 1989 film Last Exit To Brooklyn will be released by Metrodome on October the 2nd.
The film, which was based on the 1964 novel by Hubert Selby Jr, will be presented in anamorphic 1.85:1 ratio, with Dolby Digital 2.0 audio.
The set will include a forty-two minute Making of... documentary; and a commentary track by director Uli Edel and screenwriter Desmond Nakano.
The second disc features a documentary about Selby Jr, It'll Be Better Tomorrow, which is narrated by Robert Downey Jr. The eighty-minute documentary features archive footage, and new interviews with contributors Lou Reed, Ellen Burstyn, Jared Leto, Darren Aronofsky, Uli Edel, Nicolas Winding Refn, Henry Rollins, Jerry Stahl, Richard Price, and Anthony Kiedis (many of these were involved in the film of Selby Jr's novel Requiem For A Dream). It'll Be Better Tomorrow is presented in 1.85:1 ratio, with Dolby Digital 2.0 audio. Bonus features include audio interviews with Selby Jr, Uli Edel and Bookworm host Michael Silverblatt.
RRP for the set is £19.99.
Ventura International will release the only full length Lenny Bruce stand-up performance caught on film on DVD on October the 30th.
Ladies And Gentlemen... Lenny Bruce - The Godfather of Modern Stand-Up showcases Performance Film, Bruce's penultimate stand-up performance, which was recorded at San Francisco's Basin Street West in 1965. The DVD also features
the animated short Thank You Masked Man and Fred Baker's documentary Without Tears, which features clips from live shows, TV appearances and night-club performances. The RRP is £12.99.
Universal Playback has announced the August 28th release of two new Battlestar Galactica titles: the original 1976 Pilot movie, and the second season of the new series.
Battlestar Galactica - Series 2 will be a six-disc box set, containing all twenty episodes of the series. The set will also include unspecified "Episode commentaries, deleted scenes, extended episodes". Some of the etailers offer more information: the set will apparently include podcast audio commentaries by executive producer Ronald D, Moore on seven episodes (Scattered, Valley of Darkness, Resistance, The Farm, Home (Parts 1 & 2) and Final Cut) and deleted scenes from Valley of Darkness, Fragged, Resistance, The Farm, Home (Parts 1 & 2), Final Cut and Flight of the Phoenix. Best to take those spec's with a pinch of salt, though, until they're confirmed by Universal Playback, or until the discs are on retailer's shelves. RRP for the set is £49.99.
The Battlestar Galactica movie has an RRP of £15.99.
No technical details were released for either title. Here's the snazzy sleeve art!
AUDIO BOOK NEWS
BBC Audiobooks will make the first season of the spoof Radio 4 science-fiction series Nebulous available for download on August the 7th.
The series, about a Doomwatch-style department called KENT (Key Environmental Non-judgemental Taskforce), features Mark Gatiss and David Warner. It is written by Graham Duff, and directed by Doctor Who's Nick Briggs. Guest stars include the great Graham Crowden, Paul Putner and Rose Cavaliero.
Nebulous will initially be available to purchase only as download, from digital retailers such as Spokennetwork.co.uk, Audioville.co.uk and Audible.co.uk.
A CD version will be released on February the 5th 2007.
---
31st July 2006
ZETA MINOR NEWS
The Incoming page has been updated with many new titles, etailer links, and additional information in the last week, so if you haven't browsed the list recently, please do. All the titles that are listed as coming out this week have been checked against some of the etailers, so there shouldn't be any "no-show"s.
We've also added an additional etailer to the database this week: Tesco. They don't seem to be terribly competitive for pre-orders, but they do sometimes offer good deals. Currently we're having some problem getting their site to interface with our list, so you may find their links aren't reporting the correct price at the moment. We're working on it. The recent Choices Direct problem has been fixed, and their links should be working again now.
DVD NEWS
Second Sight will release Jean-Jacques Annaud's award-winning prehistoric fantasy adventure film Quest For Fire on DVD on September the 25th (making it available in the UK for the first time in fifteen years).
The disc will be presented in widescreen format (according to the BBFC - there were no technical details on the press release). The disc will feature two commentary tracks (one by the director, and one by the cast); a director interview; a Making of... featurette; and an "extensive" photo' gallery with director commentary.
The disc's BBFC record is contradictory. It says the film was "passed with no cuts made", but it also says that this is the "UKVV as cut". The RRP is £17.99.
More details about 4DVD's three-disc The Very Best Time Team Digs DVD box set are now available (as is the sleeve image, left).
Each episode is preceded by a short (one or two-minute) filmed introduction, by whoever it is whose favourite episode it is.
The episodes are presented in 16:9 format, with Dolby Digital 2.0 audio (at 192kbps).
The bonus features are confirmed as being two Time Team Extra segments, labelled Turkdean Interview (24m) and High Worsall Interview (24m); an amusing look at what happens when a JCB rolls over a £10k piece of equipment, Geofizz Shocker (3m); and a detailed look at Geofizz techniques, Geofizz Explained (19m). Menus screens from the set can be seen here.
Liberation Entertainment will release a three-disc set of the forthcoming channel five documentary series Perfect Disasters on September the 4th. The series, which speculates about what would happen if a particular natural disaster hit a particular city, combines "action-packed drama and stunning visual effects" (from the makers of ITV's Prehistoric Park).
The episodes are: Super Typhoon - Montreal, Firestorm - Sydney, Solar Storm - London, Super Tornado - Hong Kong, Mega Flood - New York and Ice Storm - Dallas.
The six forty-seven minute episodes will be accompanied by DVD extras The Science Behind Disasters and Science Facts Quiz. RRP is a ginormous £29.99.
Cinema Club is releasing six films directed by François Truffaut on September the 25th (another six will follow early next year).
These are:
The 400 Blows (Les 400 Coups)
Special features: Introduction by Serge Toubiana; A Portrait of François Truffaut; audio commentary by Robert Lachenay (a childhood friend of Truffaut's); short film The Brats (Les Mistons); original theatrical trailer.
Shoot The Pianist (Tirez sur le planiste)
Special features: Introduction by Serge Toubiana; Truffaut Scene By Scene; audio commentary by cinematographer Raoul Coutard; original theatrical trailer.
Jules and Jim (Jules et Jim)
Special features: Introduction by Serge Toubiana; Truffaut Scene By Scene; audio commentary; original theatrical trailer.
Anne and Muriel (Les deux anglaises et le continent)
Special features: Introduction by Serge Toubiana; audio commentary by screenwriter Jean Gruault; original theatrical trailer.
Finally, Sunday! (Vivement Dimanche!)
Special features: Introduction by Serge Toubiana; audio commentary by actor Jean-Louis Trintignant; original theatrical trailer.
The Woman Next Door (La femme d'á côté)
Special features: Introduction by Serge Toubiana; audio commentary by actors Fanny Ardant and Gérard Depardieu; original theatrical trailer.
RRP and technical details are TBA.
The explosive mini-series Sleeper Cell is being released on DVD by TLA on September the 18th.
The four-disc digipack set will feature a disc dedicated to bonus material, including two featurettes: Making of Series Finale and Know Your Enemy. There are also commentaries with executive producers and writers; and deleted scenes with commentary. The SRP is £34.99.
Pathé Distribution Ltd will release a two-disc Ultimate Edition of the recent Best Picture Academy Award-winning film Crash on August the 28th.
The new set will feature an extended Director's Cut of the film, with an introduction by director Paul Haggis; an updated commentary from Haggis, actor / executive producer Don Cheadle and producer Bobby Moresco; deleted scenes with optional commentary; a selection of "comprehensive" featurettes; and an extended Making of... documentary, Behind the Metal and Glass. The RRP is £19.99.
---
Last week's Zeta Minor News can be viewed here.
Previous Zeta Minor News entries can viewed here.
---